by Donna Ahlstrand, Newsletter Convener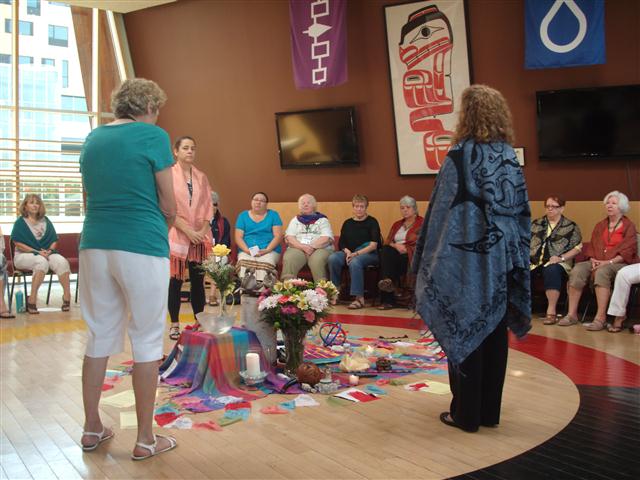 Closing the Circle in Peterborough
We are home from the Annual Gathering in Canada. 43 women from Canada and the United States spent an inspirational August weekend together "Weaving Wisdom, Renewing Spirit." We are ready now to continue to spread the GTW circle energy in our local areas, and particularly across Canada. Within a week of returning home, three Canadian women stepped forward to become new Regional Coordinators. We happily welcome Heather Plett, Michelle Landry, and Evelyn Richter! At the Conveners annual meeting, we also enthusiastically "promoted" Diane Jung from Regional Coordinator Canada to Convener Canada! Now we just need to figure out what exactly that means.
For a heartwarming review of our time together, click on this link for a three-minute slide show:  http://youtu.be/UT6NoKd1ziE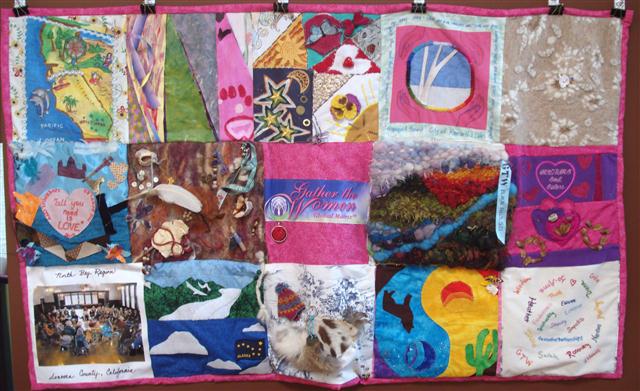 The 2012 Sisters Quilt
One highlight at the event was the unveiling of the Sisters Quilt created by GTW women from all over the world. Mary Cunningham, our Regional Coordinator Convener from Arizona, brought the finished piece which was presented in ceremony and hung on the wall in the Gathering Place throughout the weekend. See each individual panel up close in the Inspiration section of the newsletter.
Notes from some of the attendees:
On our first morning together, we were gifted by a First Nations woman, Dorothy Taylor, who introduced the "Water Ceremony" and shared with us the significance of the sacred water—and then taught us all a beautiful "Water Song" which, translated, says "Water, we love you, we thank you, we respect you." Following this, each woman in circle introduced themselves, poured water they had brought to the gathering in a ceremonial bowl, and put a special item on the altar in the center of the room. It was so good to look around the circle and see the diversity in ages—there were the young maidens, the mature women and also the elders. And it was significant in what each brought to the circle, and how it was honoured.  – Diane Jung, Canada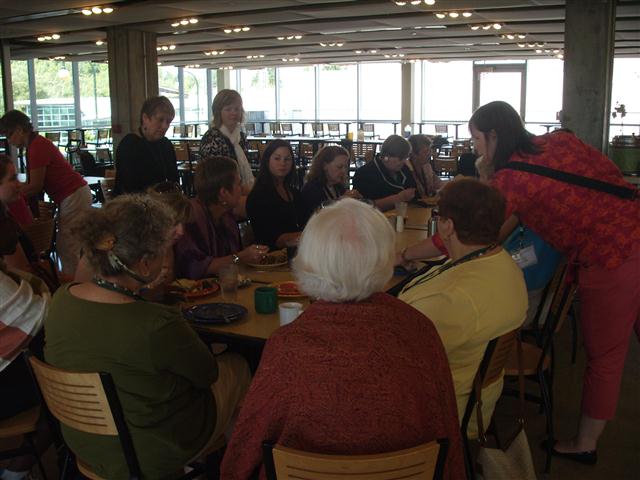 Planning the Future of GTW Canada
My memories of our 2012 GTW gathering are filled with women laughing in the circle, chatting during our meals together, and calling out to each other in the halls of the dorm we stayed in. I am also remembering the women with tears welling in their eyes as they shared their stories in circle. Another strong memory is from one evening when we sat around a bonfire outside in the warm air and sang as Diane played her tambourine and Ann-Marie sang and played her exotic instrument from Africa. Over the three days, each time we ate together we got to know each other better, and when we left after our last lunch, I was so happy to see the Canadian women gathered together in the dining hall. They were forming a strong Gather the Women of Canada before they all went back home. I am so grateful to the women who worked so hard to make everything work, and to provide a beautiful space for us to be together.   – Barbara Belknap, Alaska
Sunday morning in our final Circle together, we were asked to describe what we would be taking away from this Gathering. When it was my turn with the talking stick, I looked at the faces of the women sitting with me, each wearing her shawl signifying her own wisdom and the collective wisdom of all women, and I know that I have never felt such a strong bond of connection with each woman who sat, waiting, looking back at me, listening with attention. It was grace and it was very moving.
– Mary Cunningham, Arizona
We have added a new feature to our newsletter. Here's our first "Getting to Know You" interview with Donna Ahlstrand, North Bay (Sonoma County, California) Regional Coordinator.
Who are you in the world?
I am an organizer, a leader, someone who is interested in and enthusiastic about new-found hobbies and activities. I am passionate about whatever is high on my list at the moment, and I have a diverse and interesting collection of friends.
I was lucky to be able to do most of my college work in my mid-40s in a period where I did not have to work. At Sonoma State University, I majored in English with a Creative Writing concentration and a minor in Women's Studies. School after some life experience was wonderful, enlightening, and enriching!
After two long-term stints in business and nonprofit management, I recently served a year on the Sonoma County Civil Grand Jury. I enjoy my work in women's circles and as the North Bay Regional Coordinator for Gather the Women and was recently asked to be Newsletter Convener as well, and am proud to produce my first newsletter!
Since childhood, I have been an artist. I danced, played guitar, sang with the Petaluma Community Chorus, even dabbled in acting. My creative work includes crocheted blankets and scarves, painted ceramics, dreamcatchers, Christmas decorations, and jewelry. My current passion is gourd art: vessels and bowls, fairy houses, talking sticks, rattles and unusual gourd creations including a hot air balloon, wind chimes, gourd divas, and vases. My website is www.uppitydesigns.com.
What lights your fire?
Compassionate people, humor, astrology, stone energy, nature, Lake Tahoe, trees, babies, watching children grow and learn. I enjoy books written by Barbara Kingsolver, Michael Cunningham, and Dana Stabenow.  The movies I own and have watched the most times are Harold and Maude, Contact, and The Breakfast Club. I also love Chorus Line, Jesus Christ Superstar, Betty White (who reminds me of my mother) and Carol Burnett.
What drew you to Gather the Women?
I was drawn by the energy and wisdom in women's circles, the experience of sharing and listening at a deep level. When I walked into my first Gather the Women meeting, I knew this was made for me.

Here are the individual panels from the 2012 Sisters Quilt, presented to GTW at the August Annual Gathering in Canada. Each shows the individual creativity and beauty of the women from the different international locations. We give our heartfelt thanks to Mary Cunningham and Judy Cork for hours of labor-intensive work putting the quilt together for us. And we honor Deborah Zaher from Liverpool for her original idea that gave birth to this beautiful piece of art.
Sent in by Nancy Naumann, GTW Nevada County, CA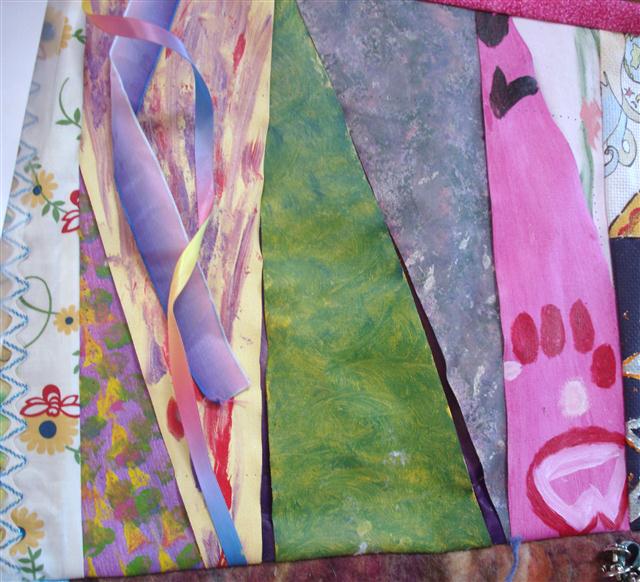 Sent in by Joy Adams,
Southern California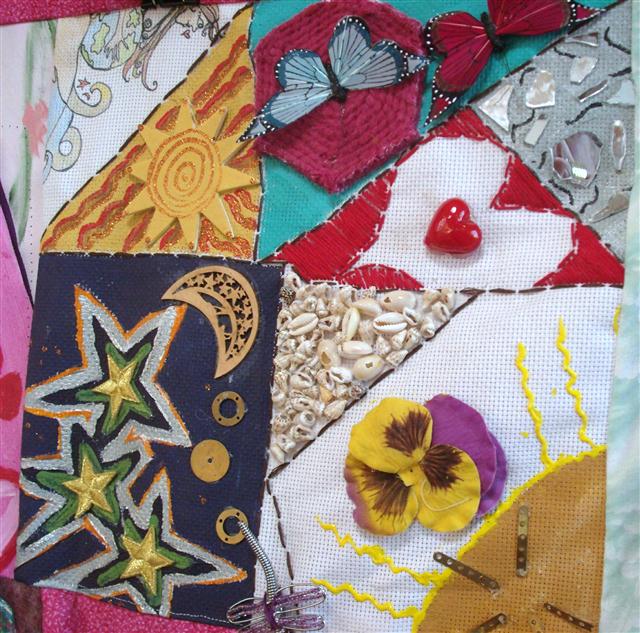 Sent in by Ana Couch, San Diego, CA
Made with Love from our Southern California women's group!
All of the elements are represented here as each woman decorated their sections:
East – Air (mental clarity), South – Fire (passion, inspiration),
West – Water (emotions), North – Earth (grounded),
Above – stars, planets, moon, galaxy,
Below – reflection, what lies beneath the surface,
Center – Heart Center, bringing all directions together
Sent in by Diane Jung, Central Ontario, Canada
Sent in by Amoorah Bruckmann, Germany
Our patch is the one with the dove in the middle. My daughters are 14 and 18 years old.
We did this sitting together in our 'small circle' in knitting and I teach them how to sew with hand and machine and knit.  I pray for a good and strong 'womb' for the NEW!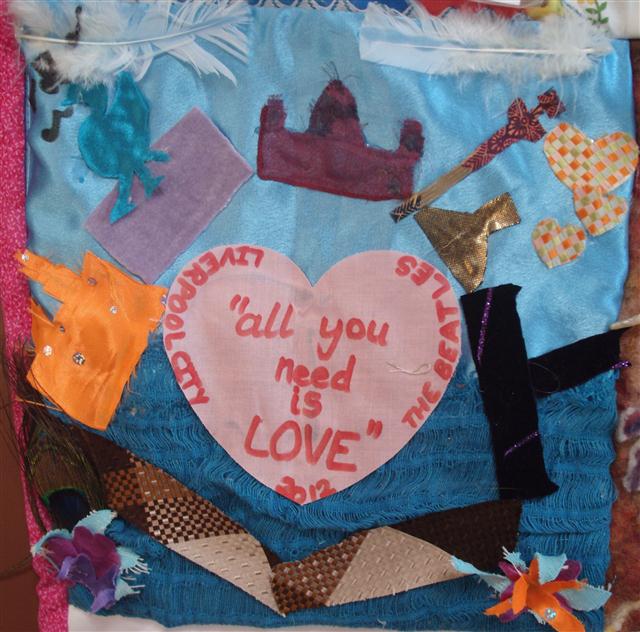 Sent in by Deborah Zaher, Liverpool, UK
Our patch shows the sky with white feather clouds (white feathers for peace) and the waves of the River Mersey below.  Liverpool's skyline is arranged in a complete circle and the loving words of the Beatles fill the circle in a heart.  Flowers adorn the bottom of the patch with more love in the sky and a "Liver Bird" (famous in Liverpool) singing. 
Seven sisters from Stuttgart, Germany:
Between the ages of 32 and 59, Inspired by the German Women's Congress in September 2011 we have met monthly since 11/24/2011.  We enjoy to be together and share thoughts and emotions.  We dance, sing, laugh, talk and celebrate our femininity.  Each of us in an individual way we love and care for kids, dogs, women, music, nature, creativity, professional fulfillment, spirit and sex.  Our wish is the development of a peaceful partnership of men and women and a conscious, new culture of love in general.
With an experience of life of 321 years together we combine and enjoy a 'female power mix deluxe"!  The group has no name yet but our motto could be 'no rules, just love!'  And when time is ready, we are willing to expand.   Our loving wishes and best regards to all around the globe,
Almut, Angela, Barbara, Dorit, Galatea, Inky and Susanne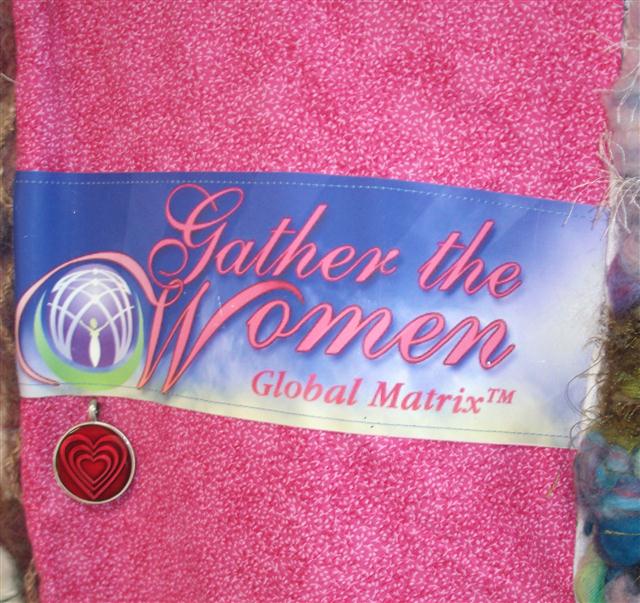 The GTW Logo center piece
From Suzan Nolan, the Black Hills of South Dakota
Here is our quilt patch which includes elements of earth, air, water and fire, and buffalo hair and sage.  It is also representative of the Black Hills.  It was woven by 35 women who participated in our GTW event "Weaving Our Lives Together".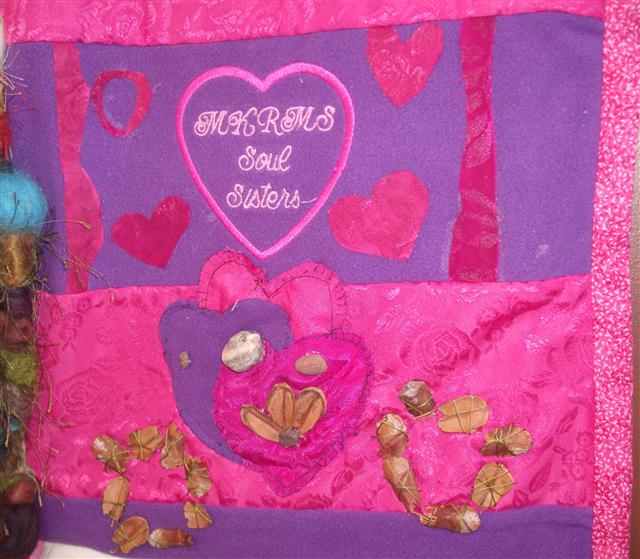 Group effort by Mary Kay Carle (Minnesota), Suzan Nolan (South Dakota) and Rosemary Reed (Illinois)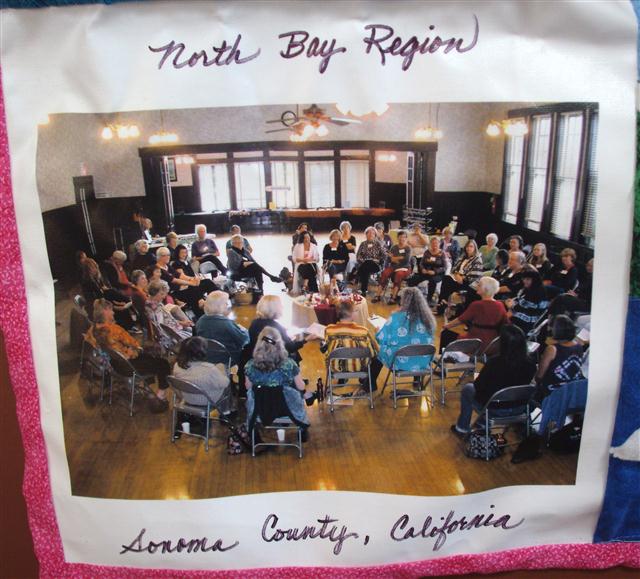 Sent in by Donna Ahlstrand, North Bay (Sonoma County), California

This is a photo taken of the women at a GTW event that was held in Sonoma County.  After it was printed onto canvas, the women then took turns holding the patch and infusing it with feminine energy.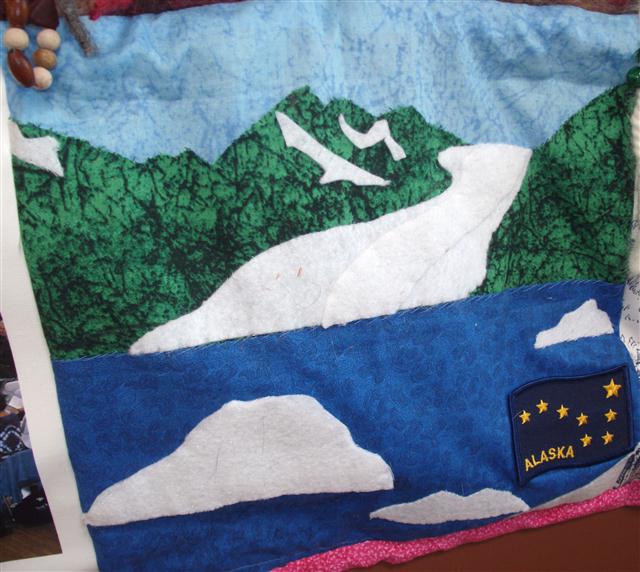 From our Matrix Convener Barbara Belknap, Alaska
Darcy, my circle partner, and I signed in the 'water'.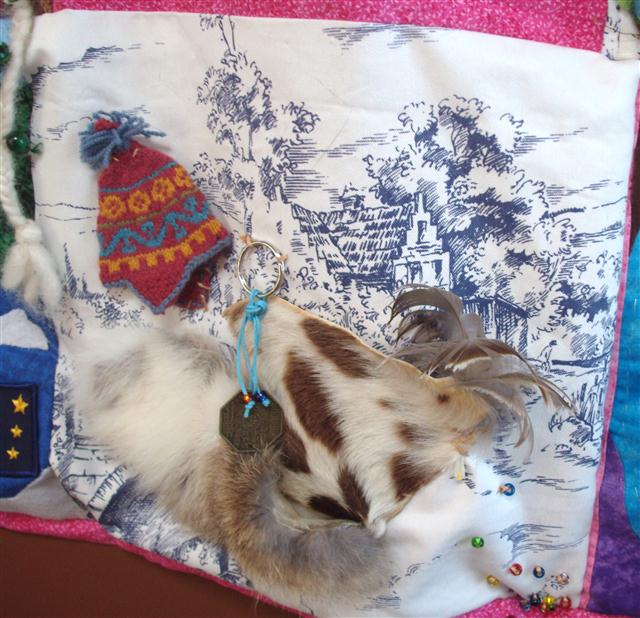 From a circle in the south of Germany.
Thank you for the beautiful idea and creating the tapestry.  Thanks and much love from Germany!  Tina, Nicole, Linn, Margret, Sandra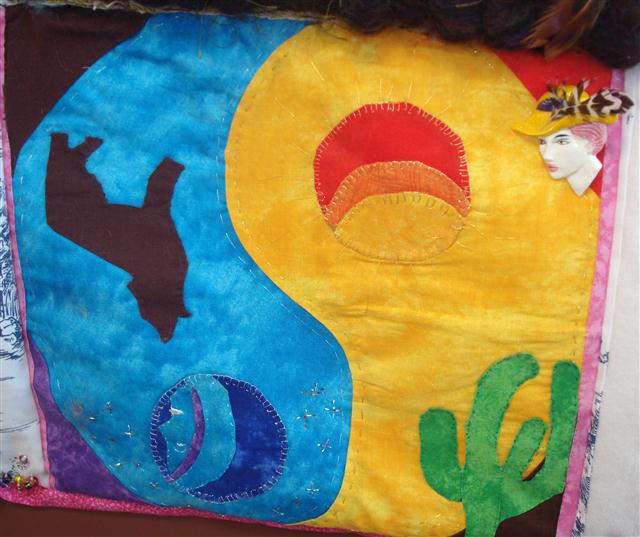 Sent in by Mary Cunningham, Arizona

Our patch was created by our circle sister, Carmen Reyes, her own design.  Incorporating the yin-yang of life, she illustrated the day and night of the desert, with a howling coyote the moon and stars, and a Saguaro cactus and the sun representing our 350 days of sunshine.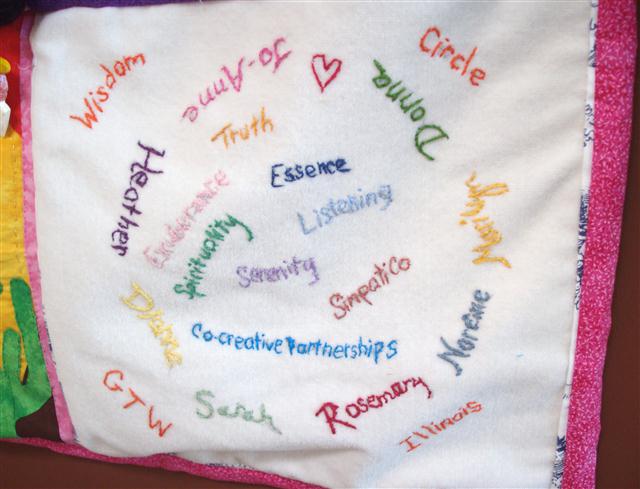 From Rosemary Reed's Illinois Circle
Each woman gave a word to be sewn inside our circle.