by Donna Ahlstrand, Newsletter Convener
IN THIS ISSUE:
Thoughts on Gratitude
Regional Coordinator Interviews: Kim Upton and Suzan Nolan
At this time of giving thanks, we thought we would share comments from amazing women on the topic of gratitude.
For me, gratitude is a daily practice. I have done 40-day journal practices where I was asked to list 10 things each day that I'm grateful for. More recently, I have just returned from a workshop with Angeles Arrien on the Gifts of the Second Half of Life, and this again affirms my belief and practice of being grateful. I have an attitude journal now that I'm writing in and came across some beautiful inspiration that I'd like to pass on to you

:
Gratitude unlocks the fullness of life.
It turns what we have into enough and more.
It turns denial into acceptance, chaos into order,
and confusion into clarity.
It can turn a meal into a feast,
a house into a home, a stranger into a friend.
Gratitude makes sense of our past,
brings peace for today,
and creates a vision for tomorrow.
  – Diane Jung

For a long time, gratitude was a word I avoided. It felt like I had to dig really deep to find it, and that it should have been easy and automatic. What I've realized in the past couple of years is that all I have to do is look around, and there are reasons to be grateful everywhere, every minute. Clouds, rain, sunshine, breezes. Feeling safe and surrounded by friends. Having circles of wise women in my life and being amazed by the children I get to watch growing up. Expressing my creativity, and being recognized for my leadership and organizational abilities. I am grateful that I have lived long enough to know this.
– Donna Ahlstrand

I am grateful for the many blessings in my life and all the wonderful women who are giving rise to the divine feminine in the world. – Joy Adams
It is like what Ann Frank said, and I paraphrase: "Isn't it wonderful that no one has to wait to start making this world a better place." Gratitude is just like that. I never have to wait for something to happen to feel gratitude. All I have to do is be quiet for a minute and think about my life and I am almost overwhelmed with all that I'm thankful for. My parents, grandparents, aunts and uncles who are gone now, but gave me so much and taught me so much as I was growing up. They and my teachers taught me to strive to be loving, sensible, compassionate, responsible, and ethical. I'm grateful to and for my immediate family, my close friends, my Gather the Women friends, who add so much richness and texture to my life each and every day.
I'm grateful for even the antagonists that I meet occasionally that give me the opportunity to look at some aspect of myself and to grow from it; to become more detached and more of a humanitarian. I'm grateful for my life, my health, the abundance I've been allowed to share in.
My life would be so much different if not for the women who started the women's rights movement in the U.S., so I'm grateful for Elizabeth Cady Stanton, Susan B. Anthony, Mathilda Joselyn Gage, Lucretia Mott and the list goes on. Because of their struggle we women have self-respect, confidence in our own powers, and the ability to live an independent life. These women's fight for women's equality paved the way so that I could be college educated, have the opportunities to rise in the profession of my choice, have a voice in the community, be able to vote and participate in representative government. For all of these and for all of you I am grateful.
– Angie Lux
I am happy to have this opportunity to express my gratitude to the entire circle of Regional Coordinators! I experience that appreciation year round but I especially am feeling it now with the outpouring of enthusiasm and loving support that has been expressed over and over to Gertrude Nakintu, our RC from Uganda, for her idea of extending her GTW circle to include 'the young ones,' the young girls in her area, calling it Gather the Girls or GTG. Also to Martine D'Haeseleer, our RC from the Canary Island/Spain, who is doing ground-breaking work with the connection of women with her beautiful horses. What lovely and profound expressions of the Oneness and connectedness of all Life on Earth!                                                                     – Mary Cunningham
From Sierra Sullivan:
Having a gratitude practice is one of the biggest tools I utilize for creating ease, grace and manifestation in my life. When things get chaotic in my life or business, I use my gratitude practice to consciously shift my focus away from what is not working to what I am grateful for (what is working). Moving my thoughts from a place of lack, loss, anger, frustration or despair to counting all the amazing blessings in my life, gives me the power to receive more goodness that is meant to come my way. Here are a few simple ways I stay in connection to my gratitude:
1. At night instead of counting sheep, I count my blessings. It takes my attention away from my work thoughts and prepares my mind for a peaceful and happy sleep.
2. I write a daily gratitude journal to help me remember all the positive things that happened to me throughout the day. It's easy to look at your to-do list and see all that did not get done; however, when you take the time to write down what you are grateful for, you begin to see your life as more enriched and fulfilling.
3. I use social media (like Facebook) to share the things I am most grateful for. It helps to engage others into the conversation and also publicly acknowledges the people and places that have made a positive impact in my life. Plus it inspires others to do the same.
And finally, from an article on CNN on making Thanksgiving easy:
Consider printing out these mantras and cross-stitching them on throw pillows or possibly taking them to the tattoo parlor:
You can never, ever have too much ice.
If they're your guests, they're very likely rooting for you.
Accepting offers of Thanksgiving help is a sign of sanity and inclusion, not weakness.
There is no such thing as too much stock or too many containers for leftovers.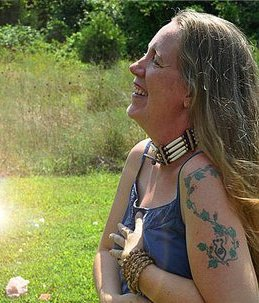 Kim Upton
We are particularly grateful that two Regional Coordinators have responded to our call for feature interviews this month. Please meet Kim Upton from Western Kentucky and Suzan Nolan of South Dakota.
Kim, Who are you in the world?
My answer changes from day to day, but the constant is that I am a woman, living and growing in Authenticity. Some days call me to be mother and partner, while others ask me to minister and listen. The key for me is to stay true to my Self as life flows through rapids and smooth water. Or, as Popeye says, "I am what I am!"
What lights your fire?
Life.  Being able to connect to so many diverse beings and organisms ignites sparks of inspiration. We are in a time where connections are so important. With our heart, our mind and new technologies, humanity is able to be globally local, or "glocal" with its interactions. One of the chants used in our GTW meetings is "Connected. Connected. Everything is connected." By doing this we open our hearts to the Mystery, the All That Is, and to everything on this planet (and beyond).

Giving thanks is another ember for the internal "fire," as it gives me time to reflect on the challenges that have turned into gold mines. It is the pregnant pauses between songs of gratitude that keep me moving forward.
What drew you to Gather the Women?
During a strange transition point in my life, where a dear mentor of mine had crossed over, it felt as if I was alone in my Journey. A friend suggested a book by Jean Shinoda Bolen that my mentor had also asked me to read before passing, and it felt like Divine Synchronicity was pulling me to a new path. After some phone calls and web searches, my feet gently landed upon the doorstep of Gather the Women. Instantly there was a feeling of being "home."
As far as what "drew me in," it would be hard to pick one aspect. The most prevalent reason was, and still is, the amazing acceptance and support. Another was the way other members greeted me with an open heart, a clear mind, and a place to dance with the Divine Mystery.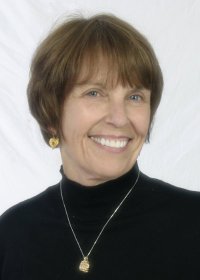 Suzan Nolan
Suzan, Who are you in the world?
I'm the reflection of every other wonderful woman who has ever touched my life, and there are a lot of them. I am a retired school counselor who is really in love with my life and most of the people in it, not all, but most. I'm an active person in my community; I volunteer as a mediator for Restorative Justice and have done a variety of mediations ranging from small offenses to large community conflicts.
I'm a promoter of our local schools and have visited and volunteered in several of them. I was on the school board for one term. I'm also a yoga addict and love going to yoga more than I like eating. I've been active in local politics, organizing and participating in forums, marches, and demonstrations. My husband says I've never met a cause I didn't like.
And the last and maybe the most important thing to me is that I'm the regional coordinator for Gather the Women. We've done 17 events here in the last 8 years, and they just get bigger and better, drawing in more young women and giving women a place to hear and be heard.
What lights your fire?
What lights my fire is being in circle, deep listening, deep sharing and deep connections with women. All the women I know are just amazing human beings ,each giving so much of herself to others and the world in general. I get very excited about the energy and passion women bring to conversations about local, national, and international issues. If women ruled the world, I think we would have a much more compassionate and passionate world based on caring for each other and the planet in general.
What drew you to Gather the Women?
I came to GTW through Marilyn Nyborg, from whom I ordered a copy of Seeding Circles. From there, I hosted the first GTW event in September of 2004 and then I went to the first Regional Coordinators conference in St. Cloud in 2007 and met so many wonderful women and had so much fun — because it is all about fun, isn't it –and I was hooked. I love the women I've met through GTW and these women have added such a spark to my life. I really enjoy being with women, when the conversation has a focus. I'm 63 and I like purposeless conversations for about 5 minutes and then I start wondering what this is about. That's why circle appeals to me; we know right up front what the intention is and what we're going to talk about and that we all get to be heard. I really like that about GTW.  I love deep and authentic friendships with women and that's how I like to live my life.

Recommended Books:
Calling the Circle: The First and Future Culture by Christina Baldwin
The Millionth Circle: How to Change Ourselves and the World by Jean Shinoda Bolen


Wisdom Circles: A Guide to Self-Discovery and Community Building in Small Groups by Cindy Spring and Charles Garfield 
Join the movement, join our Group, and continue the conversation on our  Facebook page
Notes from our magical and creative Website Convener, Sierra Sullivan community@gatherthewomen.org
If you are looking to connect with women in your area, you can search Facebook by city to see who comes up and who they are affiliated with. Go to this link: http://www.facebook.com/find-friends/browser. Type in your city of choice and see who comes up. Great way to meet new friends and to see who is doing what in your area.
To find a circle gathering near you, make sure to visit our Facebook page where they are being posted by women just like YOU. And, as always, if you can't find one near you, we encourage you to create one yourself! We have a special resource available to you to help you do just that!

This newsletter was prepared November 2012 by Newsletter Convener and North Bay Regional Coordinator Donna Ahlstrand. Contact her at news@gatherthewomen.org